JFK Tournament
---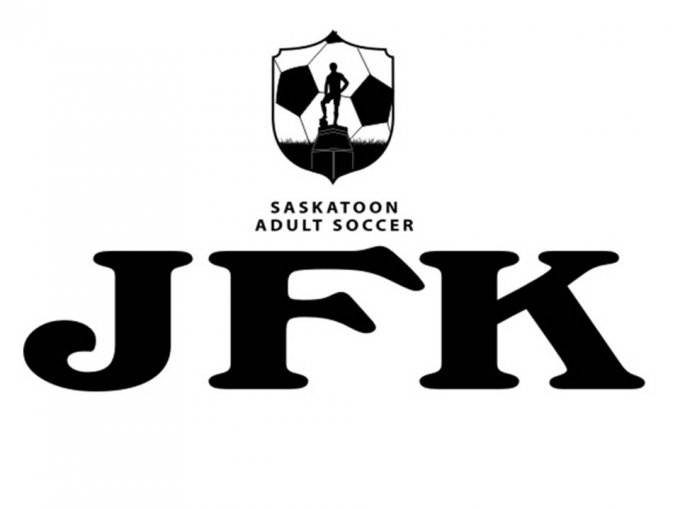 The 2020 JUST FOR KICKS (JFK) Tournament is COED ONLY.

Team registration is now closed.

The tournament will run from March 27-29, 2020.

We're looking for a new logo for the t-shirts! Submit your ideas to info@saskatoonadultsoccer.com by Friday February 28th. Submissions will be on display during the Just For Kicks Tournament and voted on by members. The winning submission will receive one free tournament entry* and the logo will be used on the t-shirts for the 2021 Just For Kicks Tournament, which is the 25th JFK Tournament!
*The entry can be used for either the 2021 January Chills Tournament or the 2021 Just For Kicks Tournament


Click here to review the rules for JFK.
All games will be played on rubber tile within boarded area at the Saskatoon Kinsmen/Henk Ruys Soccer Centre.
JFK TOURNAMENT - 2020

March 27-29, 2020

JFK TEAM REGISTRATION OPENS

February 7, 2020

TEAM REGISTRATION DEADLINE ($475 FEE)
Full payment must be in prior to the deadline for your team to be considered entry into the tournament.

March 11, 2020

TEAM WITHDRAWAL DEADLINE WITHOUT PENALTY

March 11, 2020

ROSTER DEADLINE

March 11, 2020

ACCEPTANCE EMAILS SENT & INDIVIDUAL REGISTRATION OPENS

March 13, 2020

SCHEDULE RELEASED BY

March 20, 2020

MINOR ROSTER CHANGES

March 24, 2020

All teams are guaranteed a minimum of 3 games. Format is at the discretion of the scheduler.

Limited space is available for this tournament; therefore teams will be accepted on a first come, first served basis within each division.
Note: The division selection on the application form is just to give SAS a general idea of where you think your team fits, and does not necessarily reflect the division you will be placed into.

Please ensure you register for the correct division, and that your team/players are suitable to that division. If you are not registered in a compatible division to the calibre of your players, we reserve the right to alter your selected division.



Team Rosters


Please submit this roster form to info@saskatoonadultsoccer.com prior to this deadline for your registration to be considered complete.



Player/Team Roster Checks - Photo ID Required


We will be performing random checks on players/rosters so make sure your players have a form of photo identification. (It is not required to be a Saskatoon Soccer Player ID card for this tournament. Any photo ID is acceptable. Players that do not have ID will not be permitted to play.



Individual Player Registration


The Just for Kicks Tournament is sanctioned, and therefore all players must be registered with the Saskatchewan Soccer Association (or their given provincial association) by way of a Member Organization such as Saskatoon Adult Soccer (SAS).

*Please do not use Internet Explorer to register! Goalline works best with Chrome.*




Saskatoon/Saskatchewan Individual Player Registration



Registered Players from Associations Other Than SAS:
If you are already registered in Saskatchewan you do not have to register again. However, you will need to provide us with information as to where you are currently registered. Your association must confirm that you are registered for the current season and that you are in good standing. They can send an email directly to info@saskatoonadultsoccer.com.

Unregistered Players
If you are not yet registered for the current season, please REGISTER HERE.

YOU HAVE TO REGISTER ONLINE OR AT TOURNAMENT HEADQUARTERS

PRIOR

TO YOUR FIRST GAME.


ONLINE REGISTRATION WILL CLOSE AT 3:00PM

ON THE FRIDAY OF THE TOURNAMENT: MARCH 22. AFTER 3PM YOU WILL HAVE TO REGISTER AT TOURNAMENT HEAD QUARTERS.

Note: Typically, the Individual Player Registration fee is $40. However, being this is the last tournament of the season SAS will cover $20 of your fee, and so you only have to pay $20. The $20 fee is non-refundable. If you have registered in a prior tournament (Barnstone, January Chills) you are not required to pay this fee again. Note: Some exceptions may apply for non-SAS tournaments/league play.

The indoor season runs from October - April.
The outdoor season runs from May - September.



Out of Town Players/Teams



Any players not currently playing in the SAS league must verify they are in good standing with their current league. An email must be sent from your current association to info@saskatoonadultsoccer.com prior to the final roster deadline. It is the player or team contact's responsibility to request the email be sent.



Out of Province Players/Teams



Players/Teams must receive approval from their district and provincial associations to travel/play out of province.

Please visit your given association's website for additional details to Team Travel Permits, Guest Player Permits (also called Temporary Registration or Individual Travel Permit - Out of Province) etc.

British Columbia Soccer Association
Alberta Soccer Association
Manitoba Soccer Association
Ontario Soccer Association
Quebec Soccer Association
Saskatchewan Soccer Association