Masters Regional Championships 2023
---
We are happy to host the upcoming Men's Western Regional Masters and Women's Regional Masters competitions with Canada Soccer Association!

The Western Regional Masters and Women's Regional Masters will not only showcase exceptional athletic prowess, but will also serve as a platform to celebrate the spirit of sportsmanship and unity. As teams from across the region converge on this stage, the camaraderie that emerges from shared passion and dedication will undoubtedly leave a lasting impact.
Your presence at the Western/Regional Championship will undoubtedly contribute to the vibrancy and excitement of this event.
See you at the field!
Admission is 🆓 FREE 🆓 thanks to our generous sponsors:
Soccer Locker,

SaskEnergy,

Saskatchewan Soccer Association,

Sask Sport,

Saskatoon Youth Soccer Inc and the Saskatoon Soccer Centre.

💚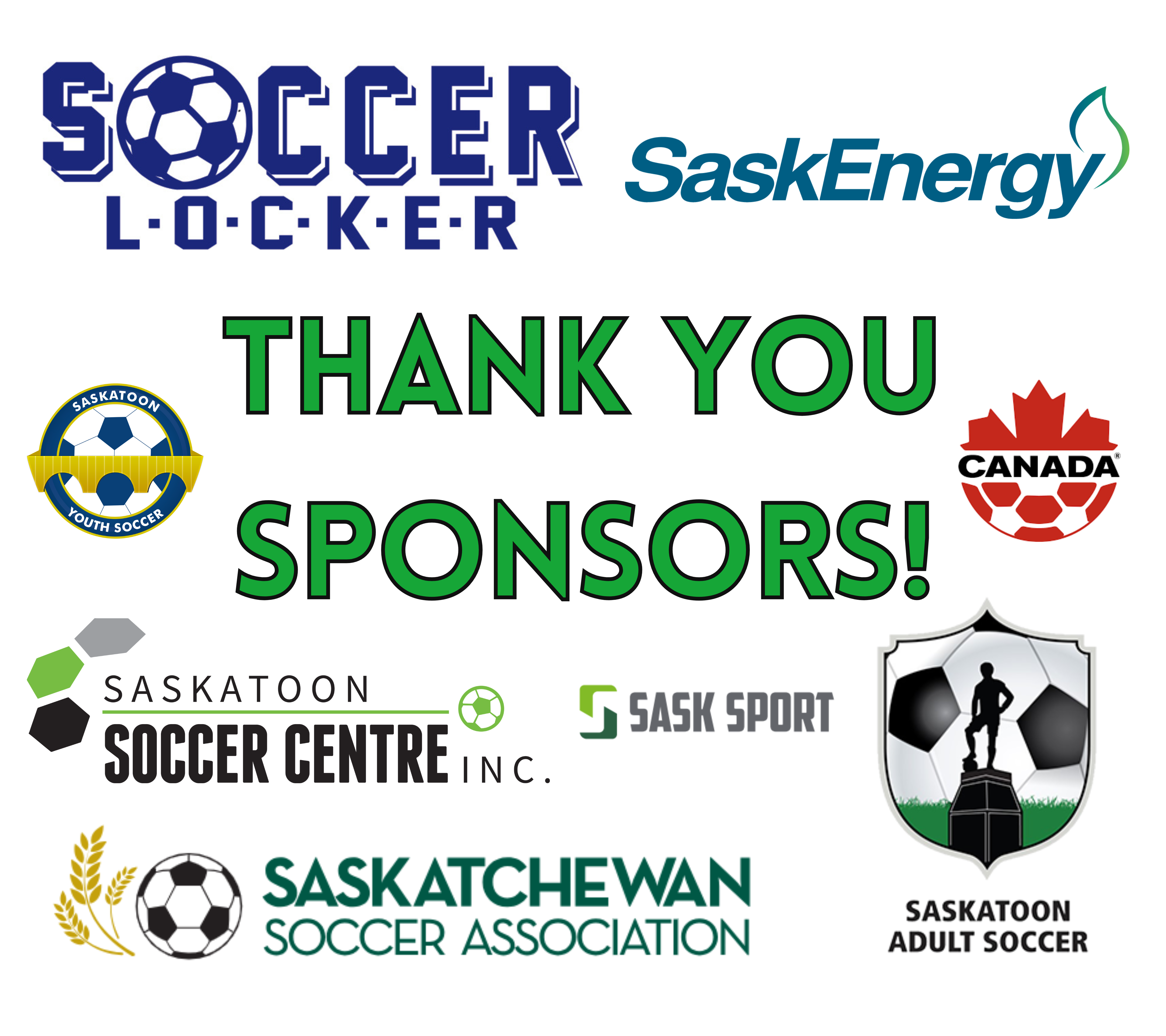 MASTERS REGIONALS CHAMPIONSHIP SCHEDULE
All games will take place at the Saskatoon Sports Centre at 150 Nelson Road. Please use South doors by outdoor turf fields.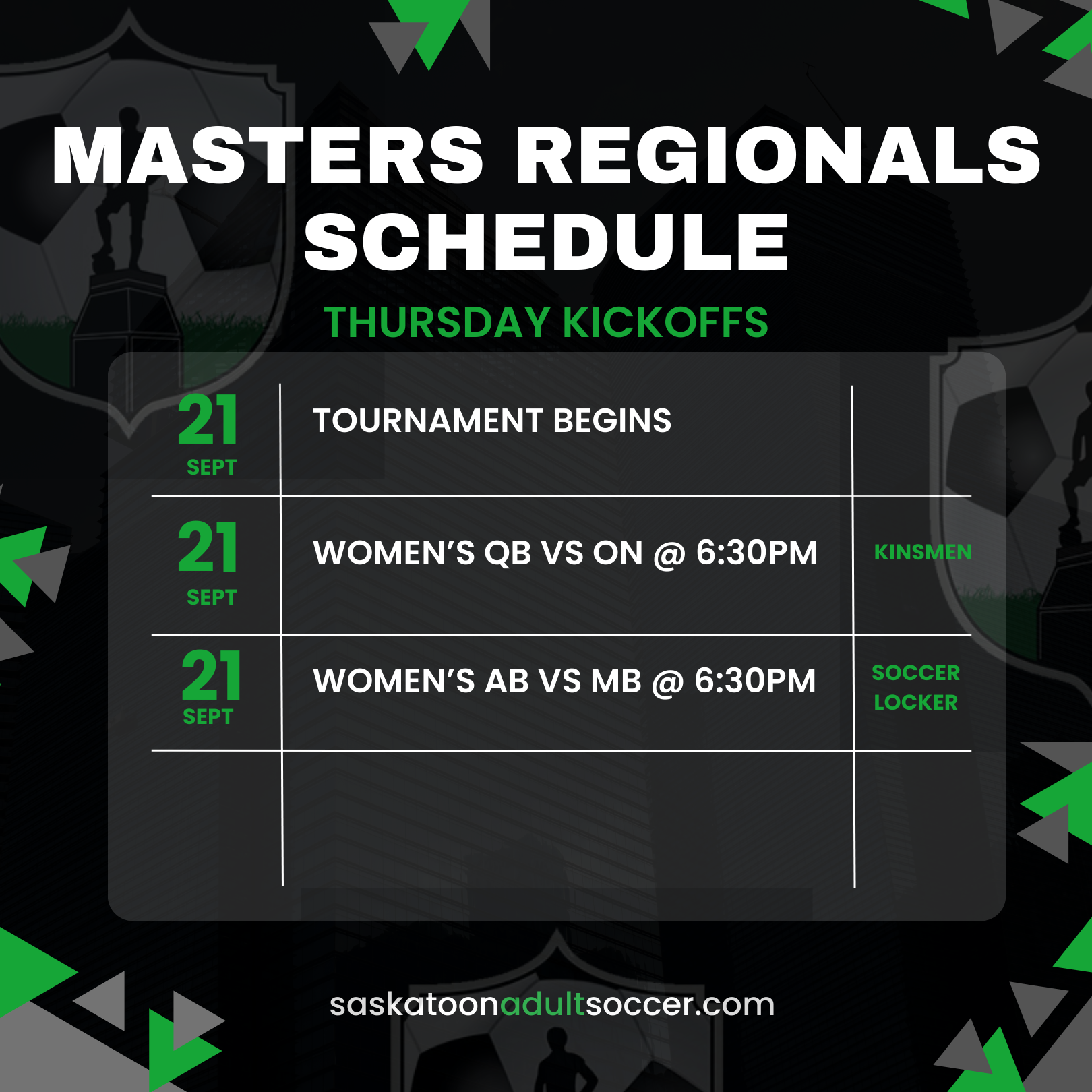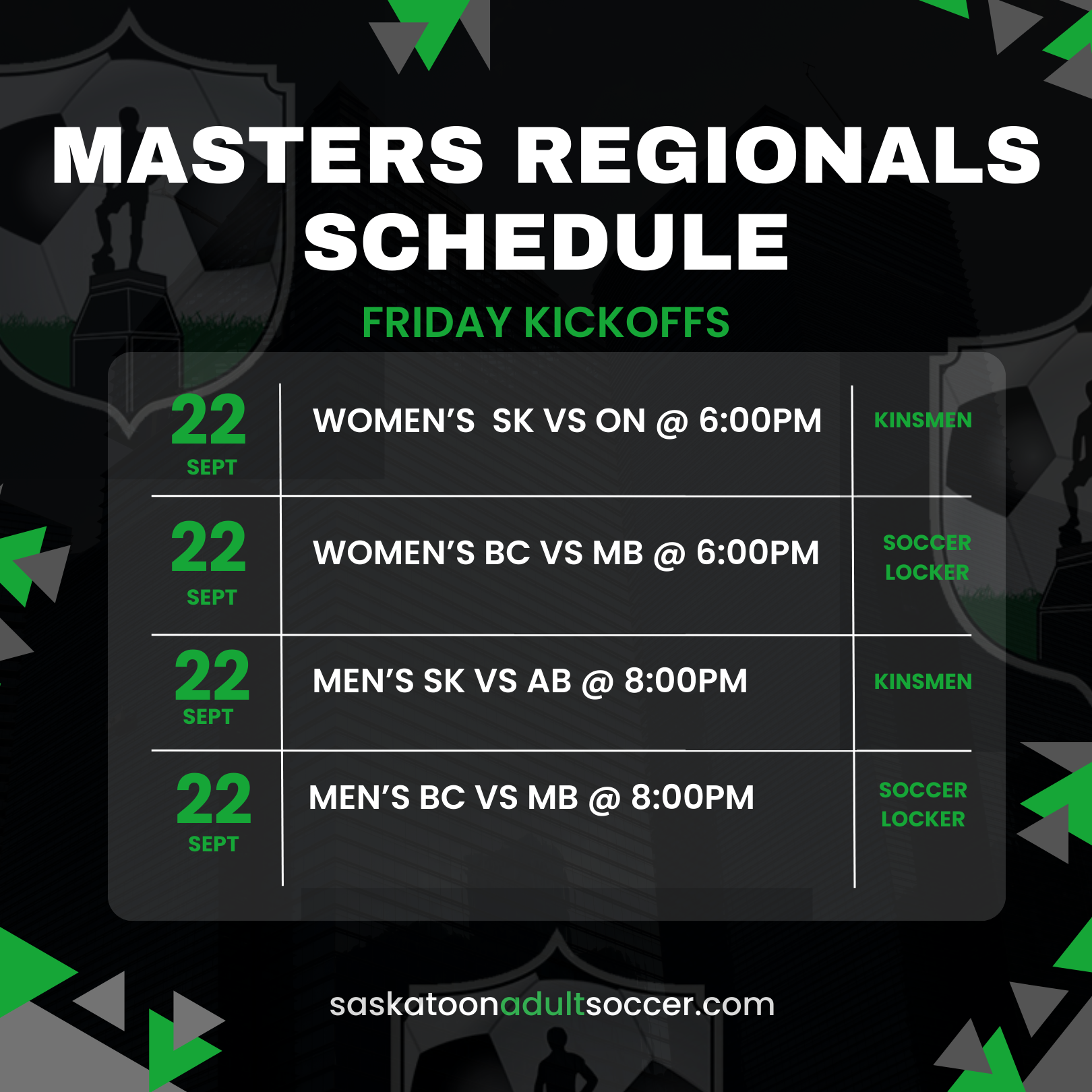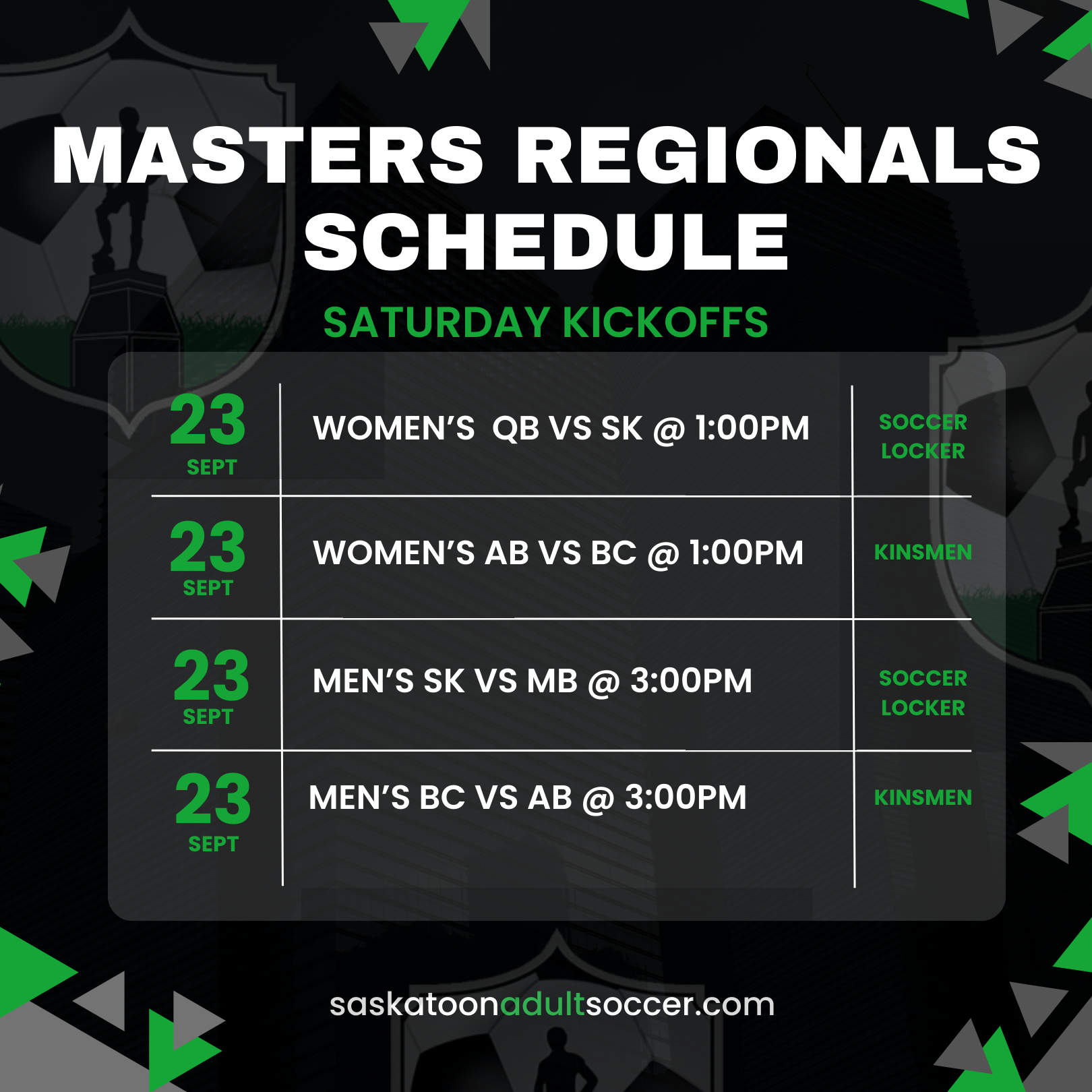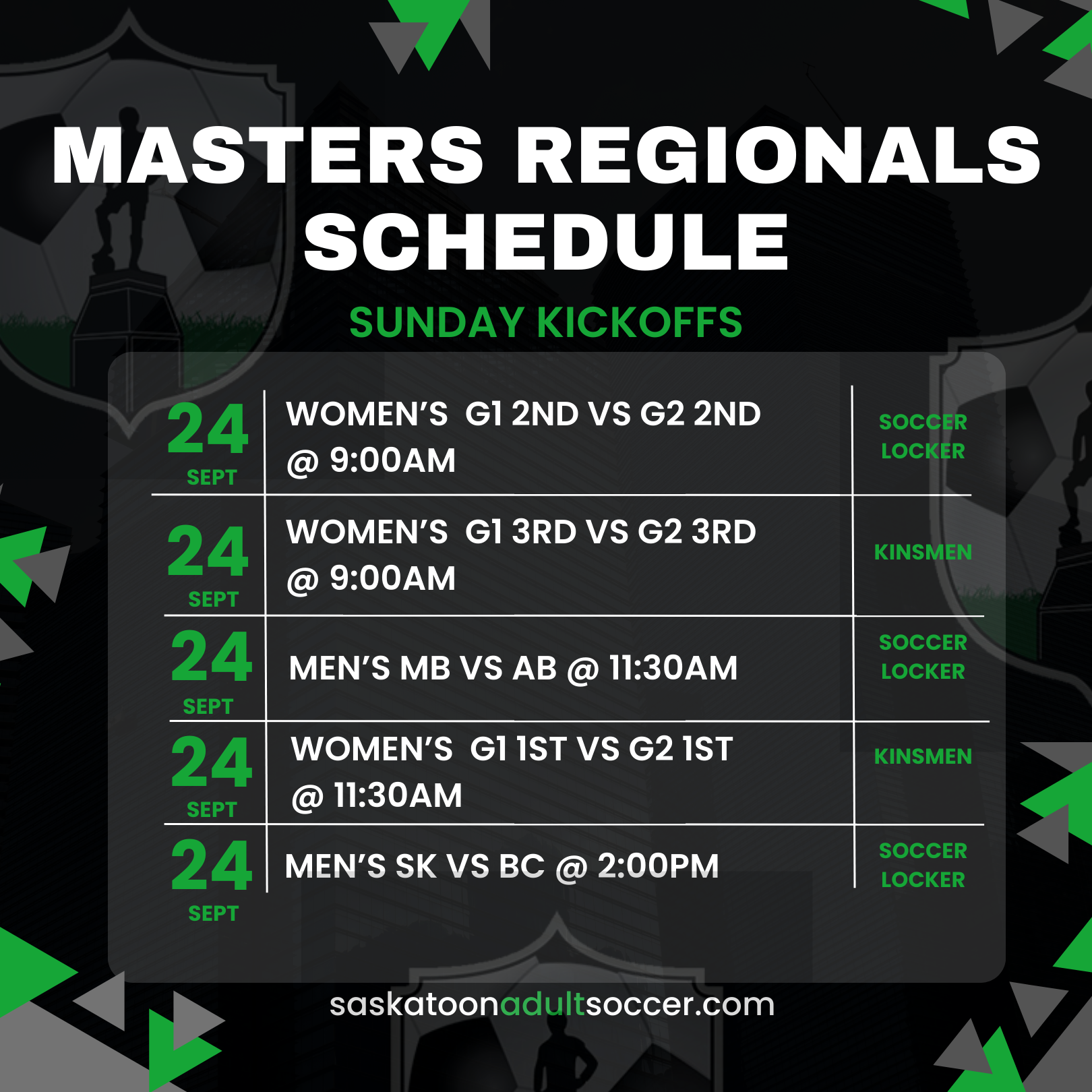 ROSTERS
We will post additional rosters as we receive them.
GAME RESULTS
Game results can be found on the Game Results page.
We will also keep live updates on our top banner scorecard found at the top of the screen.
BROCHURE
ONLINE STREAMING
This tournament is participating in a BETA production through CBC Sports testing a groundbreaking streaming service designed exclusively for athletes and their families. The platform is intended to bring the exhilaration of youth and amateur live sports directly to your screens, and provide an immersive experience that connects athletes, families, and fans.
Your participation in our BETA production will help CBC Sports design the system for generations to come. Please follow this link and sign-up with your name and email to watch tournament content for free here:
Games will be broadcast either live and/or available VOD. Beyond the live action, watch the most thrilling moments through customized highlights and easily share them on your favorite social media platforms. Don't forget to tag @cbcsports!
Please remember, this site is in BETA. We are testing your event to help us better understand the technology, the platform and the user experience. We hope to learn from the event and would ask that you please give any/all user experience feedback to: admin.pixellot@cbc.ca